The 110 kilometres of the Romagna Riviera include the largest tourist area in Europe with approximately 40 million tourists a year.
This is thanks to the numerous holiday possibilities offered by the Emilia Romagna Region: sandy beaches, Nature and relaxation, sport and well-being, enjoyment and good food, art and culture, events and sightseeing itineraries.
Indeed there is something for everybody!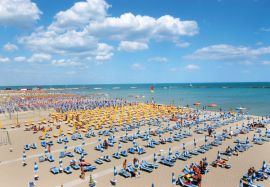 CESENATICO, cradle of maritime traditions, small-large beaches GATTEO A SEA TO SEA of SAVIGNANO SAN MAURO MARE and are a point of departure and return of a moving tourist who loves this land, its hospitality and its good proposals , not only in summer, but during the whole of the seasons or the Romagna that will not cease to surprise yesterday and today for its mix of flavors, culture, tourism and culture.
And last but not least we RIMINI that will attract you with its fun and its infectious joy.
There's something for everyone!